Your pick up day is FRIDAY.
Please have your Trash & Recycling out by 7:00 a.m. on your service day.
Trash
TRASH & RECYCLING PICK UP IS PROVIDED WEEKLY.
If a holiday falls on or before your scheduled day, pickup will be one (1) day later than normal. If a holiday falls on a weekend, your scheduled pick up day will NOT change. OBSERVED HOLIDAYS ARE: New Year's Day, Memorial Day, July 4th, Labor Day, Thanksgiving Day and Christmas Day.
ALL MATERIALS SHOULD BE SET AT THE CURB BY 7:00 a.m. on the scheduled day of pick up.
Containers should not weigh more than fifty (50) pounds each. Materials that are not at the curb when collection vehicles go by will not be picked up that week.  Residents should leave space between trash, recyclables and yard waste containers so that the collection crews can properly identify and pick up materials easier and faster.  For those with special pick up needs, contact your Township Office.
UNACCEPTABLE MATERIALS: Tires, concrete, fencing, any contractor generated materials, free liquids(paints, pesticides, etc), car parts, appliances containing Freon, fluorescent bulbs (in excess of seven per household), and car batteries.
Recyclable Items
MMWA encourages residents to use a 45-gallon or smaller can for their recyclables, as cans help better contain contents and keep them dry. Any rigid plastic can with handles can be transformed into a recycling container by adding a "Recyclables Only" sticker, available through MMWA or your township office. You may also use an 18-gallon recycling bin.  YOU DO NOT NEED TO SORT RECYCLABLE ITEMS!
 https://www.recyclemotion.org/recycling/
What items are recyclable?
Acceptable materials include plastic bottles, tubs and containers labeled: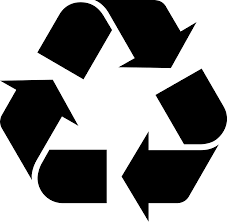 as well as glass, paper, cardboard, and metal. However, no foam products are recyclable, even if you see the #6 resin code on the item. Please consult MMWA's 1-step recycling guide for our accepted recyclables list.
What items should NOT go in my recycling bin?
MMWA offers a very comprehensive curbside recycling program, but the fact is, there are many items that should not go into your recycling container. We know people are enthusiastic about recycling and want to recycle as much as possible, but it is important to follow the list of accepted materials. If you are unsure about whether an item is accepted, please call MMWA at (989) 781-9555 for clarification instead of being a "wishful recycler."
Remember, only #1, #2 plastics (and now #4-7) are accepted. If you do not see a number in chasing arrows on your plastic item, it is not recyclable through the curbside program. This is not a complete list of prohibited items, but some of the most common non-recyclables we see in recycling containers include:
#3 plastics
Batteries
Blue, black or frosted glass
Candy wrappers
Cassette tapes
Ceramics
Clothing/fabric
Construction materials
Electronics
Foam products (including egg cartons, packing materials and food containers)
Hardcover books
Laundry soap boxes
Light bulbs
Mirrors
Motor oil or cooking oil bottles
Needles/sharps
Paper napkins, tissues or paper towel
Pet food bags and feed sacks
Pizza boxes – greasy (cut off lid & recycle if clean)
Plastic/cling wrap
Plastic bags
Plastic straws and utensils
Pots and pans
Potato chip and cookie bags
Propane and helium tanks
VCR and VHS cartridges
Waxed paper cups
Windows
Wood
Refuse/Recycling/Yard Waste Service Issues
If you have a problem with your Refuse/Recycling/Yard Waste Services please fill out the Waste Complaint Log and turn it into the Township office.
Landfill Permits
Maple Grove Township no longer issues landfill permits. You can call Brent Run Landfill at 810.639.3077 to inquire large load dump requirements. They are located at:
8335 Vienna Road
Montrose, MI 48457